Customer Service
With SUSS MicroTec, you have a committed partner at your side for the entire life cycle of your machinery. Our range of services begins with the installation and startup of the systems including user training. Once systems are integrated in the customer's environment, the comprehensive line of SUSS MicroTec services provides consistent support. Long life cycles are very common for our equipment. This makes preventive maintenance programs all the more important, as well as reliable spare parts systems, warranty extensions and system upgrades. And last but not least: we buy back your used equipment at fair market prices.
SUSS MicroTec maintains service locations in all areas of the globe. Having a local contact person is essential in an industry where downtime is costly. Our Customer Care Center responds quickly with competent help. The qualified staff of our local support teams provides you with individual advice and is also your guarantee of seamless communication with the production plant. Your process technologies are supported with further development at our regional application laboratories, which are equipped to the most advanced standards.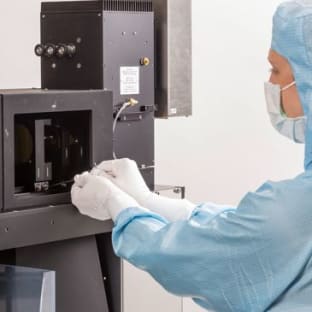 ---
Spare Parts
Obtaining spare parts quickly is especially in the interests of our customers. SUSS MicroTec consequently places great emphasis on optimum management of spare parts. Our central Customer Care Centers are your first point of contact for service inquiries and spare parts orders. Ordering processes run on the globally uniform SAP platform, ensuring transparent ordering. Our service locations serve as regional warehouses for spare parts, while the management of optimum inventory levels takes place at the central production plants. These processes, based on the "vendor-managed inventory" principle, guarantee that all critical components are available in every region.
SUSS MicroTec's system-oriented quality management process is certified to ISO 9001.
Additional services:
Quality control
Repairs
Refurbished spare parts
---
Process Development
As a company in the semiconductor industry, we work with our customers in a complex technological environment. We are committed to providing competent advice and ensuring that, supported by our products, our customers are able to successfully compete in their markets. In order to meet the need for process support and feasibility studies, SUSS MicroTec maintains a series of application laboratories worldwide. Highly qualified process experts are available at our production sites as well as at our regional sales and service locations. As a result of many years of experience, our engineers have become competent partners for our customers, supporting them with solutions for complex challenges.
Fields of activity:
Product demos
Feasibility studies
Startup of semiconductor processes on newly installed equipment
Process optimization
In order to provide detailed answers to specialized questions raised by our customers, SUSS MicroTec works closely with leading research institutes to supplement our in-house application laboratories. This link with research and science is an important innovation driver at SUSS MicroTec.
---