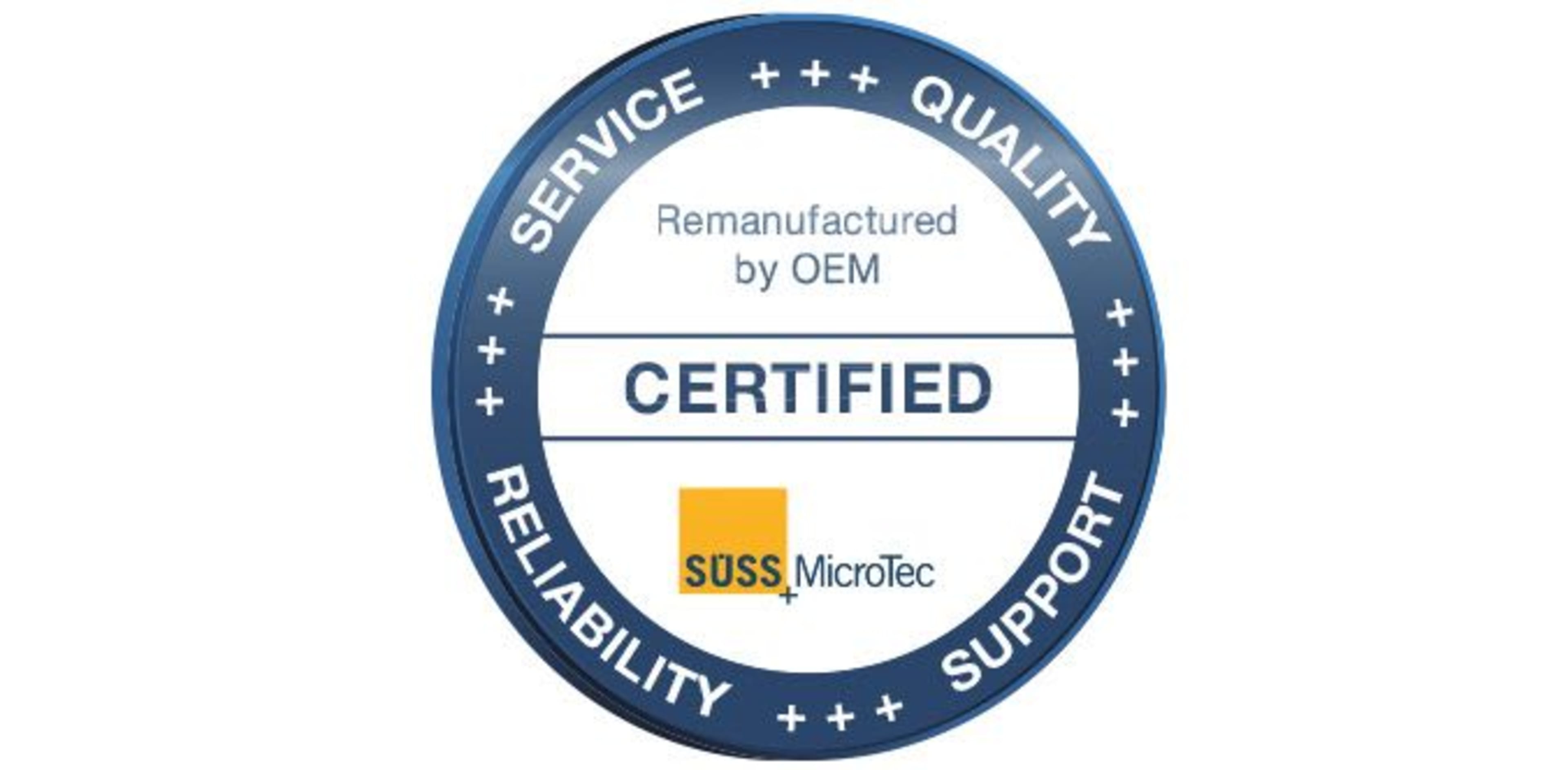 Exclusive Remanufacturing
Our engineers carefully design our wafer processing equipment for long periods of use. A service life of 15 years or longer is not at all uncommon – proof of the excellent return on investment our equipment provides. Year after year, equipment manufactured by SUSS MicroTec proves its worth in terms of quality, reliability and durability. In fact, machines manufactured by the Karl Süss company, which after an IPO in 1999 became SUSS MicroTec, are still highly regarded throughout the semiconductor industry worldwide.
The division SUSS MicroTec Reman is dedicated to meeting the growing demand for remanufactured pre-owned machines. Customers looking to expand production capacities with the addition of equipment from an earlier generation that matches their existing system, thus ensuring a reliable transfer of existing processes, can choose a system bearing the SUSS MicroTec Remanufactured brand.
Refurbished vs. Remanufactured
While used machines are usually refurbished using only some original components, our remanufacturing service provides a special guarantee: exclusively manufacturer-specified original parts are used. In addition, used equipment is extensively overhauled to restore it to its original condition. This sets SUSS MicroTec apart from many other companies competing in the used machine market for semiconductor manufacturing.
Certified Quality
Each and every remanufactured machine SUSS MicroTec offers meets our superior standards of quality and precision. Every system is prepared according the original specification and performance data.
Our OEM certificate includes:
Highlights
Six-month warranty

Safety feature updates

Pre and final acceptance tests

Phone support and on site field service

Long term spare part availability

Complete documentation
Products
We offer remanufactured equipment for semiconductor production and microstructuring from the complete line of SUSS MicroTec products. This includes currently available equipment as well as machines that after serving our customers reliably for many years have been remanufactured and certified. You will find a selection of such machines at the bottom of the page.
For R&D departments and institutions, we also offer reasonably priced manual equipment for initial needs.
We are looking forward to your request!
Service
Certified Quality
Superior Safety
Complete System Documentation
Enhanced Performance
Customized Configuration
Support
Global Support for Remanufactured Semiconductor Equipment
Use of Original Spare Parts
Buyback
Used Semiconductor Equipment Buyback